When I was applying to colleges (and later on business schools), I thought I could handle the application process all on my own. Achieving great grades and excelling at multiple extracurriculars led me to believe I wouldn't need the help of a private admissions counselor to earn acceptances at my target schools.* As a 17-year-old going on 34, I had it all figured out. But I was wrong.
As it turns out, the content of my essays completely missed the mark of what admissions committees actually look for (more on that later). And my strategy, if you can call it that, for conveying my personal story was entirely off base. Bottom line: I could have used some major help from a top admissions consultant such as Admissionado.
Through a series of video calls with co-founder, Raj Patil, and other members of the team, I was able to learn firsthand what separates Admissionado from other top admissions consulting firms. Continue reading my Admissionado review to discover if they may be the right fit for you. 
*In my defense, the option presented to me in my hometown was a local ex-guidance counselor who attended a top 25 university 40 years ago, but otherwise had no expertise or raw admissions coaching talent.
About Admissionado's Admissions Consulting Services
Founded by Jon Frank and Raj Patil in 2007, Admissionado was created to meet the demand for a "smart, effective, and inspired admissions consulting program powered by young, successful experts." Throughout their 16-year history, the firm has reviewed over 35,000+ applications to date. Admissionado has grown to a team size of over 65+ full-time and part-time consultants, which are supported by one of the best operations teams in the admissions consulting space. 
Admissionado's operational support model is an immense competitive advantage for students, relative to what they can get at other firms. The way they structure their team frees up consultants' time to focus their efforts exclusively on what matters most, guiding you to create personalized applications that convey not what you are today, but what you might become in the future. 
That's the key to college (and MBA) admissions. But it's far easier said than done, and Admissionado follows a unique approach that's been proven to accomplish that goal.
While most college and MBA admissions consulting firms follow a single counselor approach, Admissionado divides the process into its two primary elements: application strategy and persuasive writing. Both are necessary ingredients to gaining admission to the most competitive schools. Admissionado only hires masters of both crafts who work together to provide a more effective service when compared to the standard admissions consulting model. 
Students are first paired with their primary application consultant in a thoughtful way that's distinct from most other firms. Rather than simply matching a mentor's alma mater to an applicant's target school list (logical, but not necessarily effective), Admissionado pairs students with consultants based on the style of mentorship that most resonates with them. 
For example, do you need someone to inspire you? Challenge you? Calm you down? Regardless of the personality style you prefer, all Admissionado admission consultants have an elite pedigree and the ability to bring out the best in you.

Admissionado Essay Specialists
Following the strategic guidance of your personal consultant, Admissionado's essay specialists provide actionable analysis and effective feedback at the line- and word-level for all of your essays. This is an area where Admissionado really shines, since both the primary consultant and essay analyst are involved in guiding and shaping your essays from beginning to end. 
Through their specialist support model, Admissionado offers next-level mastery of this feedback process to help you maintain your personality and convey a story that is memorable, which is paramount for your application. Unlike with most firms, the essay analysis and edits you'll receive here are more than just a simple polish.
While the consulting model is identical for both college and MBA/Masters service lines, I wanted to highlight a couple key items for Admissionado's college services below (or skip ahead to the MBA section).
Admissionado prides themselves in being "expert storytellers." The team coaches students to deliver narratives that exhibit concision, clarity, and style, based around the 5 major categories admissions committees use to evaluate elite applicants. Their custom framework, known as S.P.A.R.C., challenges students to dig deeper when developing their personal stories to create memorability in their applications, and separate themselves from the next compelling candidate.
The framework serves as a guide to help applicants organize their thinking in a way that unearths the characteristic "bumps" (admissions speak) that truly help move the needle. Although I'm not permitted to spell out the acronym and specifics on SPARC (though you could ask them to in a free consultation), what I can tell you is that it made it perfectly clear to me why my own college admissions essays failed to impress enough. 
Essentially, the framework elicits the kind of "second-level" thinking you'd hope to gain by working with an elite college application consultant. Although some students may stumble onto 1 or 2 of the 5 major categories that make up SPARC on their own (I gave myself 2 out of 5), most won't. It takes successfully nailing all 5 to gain admission to the likes of HYPS (Harvard, Yale, Princeton, Stanford) and other highly competitive schools.
More specifically, Admissionado's custom framework will help students address items such as:
Which stories they'll tell in their essays (and potentially interviews)

Exactly which features to highlight within each story to advance their candidacy in the most impactful manner

When and how to choose among a handful of common story types for their essays

How to avoid common pitfalls and traps with respect to communicating goals and aspirations to admissions committees (AdComs)

Specific instances when the "wildcard essay" can work in their favor 

When to discuss their amazing past accomplishments and when not to

How to avoid raising red flags from AdCom members and avoiding critical mistakes

Plus many others
The Ivy League Insider Audit
Aside from Admissionado's core college admissions framework, I wanted to quickly mention their trademarked Ivy league Insider Audit. This is just one additional component from a list of many that set Admissionado apart from other college admissions consultants. 
For up to the first three schools of a multi-school application package, Admissionado brings in a Blind Reviewer (typically an Ivy League graduate or someone with similar alma mater caliber such as M.I.T. or Stanford) from the team to provide a cold and objective assessment of the student's essays and application materials created to-date. Auditors operate under the hypothetical premise that the student's application has been rejected, and it's the auditor's job to explain precisely why. 
This is a key facet behind Admissionado's success as it provides actionable feedback and keen insights for the primary consultant to help the student address areas of potential concern (with plenty of time still remaining in the admissions process).
Feel free to skip ahead now to the Package Options section or learn more via the link below.
Admissionado separates themselves from a crowded field of business school admissions consultants through their specialist model (discussed in the first section of the review), along with their business school IMPACT framework, additional consultant reviews, and expertise in specialty interview formats. Let's take a look at these additional MBA/Masters items below.
Admissionado has worked with scores of competitive business school applicants with incredible profiles, potential, and stories. However, there's often a mismatch between what applicants think their best selling points are and what admissions committees actually want to hear about. The issue isn't that you might not have what it takes to attend a school such as HBS or Stanford, but rather that you may not be able to "convey it well enough for AdComs to see it, and want it." This is where Admissionado's IMPACT framework comes into play.
The IMPACT framework is Admissionado's custom tool for MBA profile positioning. With over a decade of refinement, the team has solidified their process into 6 key components that your essays and full application package will be graded on when evaluated against others for admission to the most elite business schools. Think of it as a potential source of "edge" in making your admissions case convincing, and future success enticing, to admissions committees. Afterall, that's what top MBA programs ultimately desire – the ability to claim they guided you to future success. 
While I'm not able to share the definition and confidential details behind the 6 individual framework components (though you could ask about them in a free application consult), I can say that it will help applicants to elite business schools in specific areas such as:
Deciding which stories to tell in interviews (and essays)

Figuring out which attributes to showcase within each story and how to do so in a high-impact way, to stand out from the thousands of other qualified applicants 

How to handle unique stories and when to tell them 

Identifying common pitfalls and traps applicants fall for with respect to both personal and professional stories

And many more
The Admissions Committee Simulator and M7 Insider Audit
After completing the full discovery process and having your essays scrutinized by a blind reviewer (second consultant), under the hypothetical conceit that your application has been rejected, you'll then have the opportunity to go through a full "simulated" admissions committee style review process. This is led by three tough critics who are former M7 AdCom members. Your application will be compared alongside other candidates (prior admits, waitlists, and rejections) to facilitate how the decision-making process works in reality. 
Review scores and comments are then passed on to your primary consultant to help you make final adjustments and align your application toward the most optimal outcome. Although it's only found in the premium package option, I feel it's a core component of any truly elite MBA admissions consulting experience and recommend prospective clients opt to pay up for it.
Expert and Specialty Interview Prep
As part of their business school interview prep modules, Admissionado starts clients with a cold, (on-purpose), mini-mock interview, to test the waters and judge a candidate's current ability to think quickly on their feet. Following this "cold-call"-inspired step, clients work with their consultant to review tailored preparation tactics, key considerations, and develop a framework to nail any iteration of the most commonly asked business school interview questions. After a natural ease and comfort has been developed, applicants perform a second (this time formal) mock interview followed by targeted feedback. 
Additionally, clients have access to Admissionado's online video tool where you can practice answering questions from a bank of prompts developed by former M7 AdCom members. This is a really great way to develop natural flow for your interviews, and it's something I wish I would've had access to when I was interviewing for business schools. 
In addition to their standard format interview prep, the team offers premium support for those who must face some of the more dreaded specialty interview formats.
HBS and Post-Reflection Interview
To help candidates face this unique Harvard Business School interview format with high confidence, Admissionado provides 25 pre-recorded/simulated admissions interviews within their online web video portal. Additionally, the team provides 24-hour-or-faster response times to ensure clients can meet the strict requirements as part of the HBS interview process. For candidates who make it this deep in the application process at the world's most elite business school (my own opinion), having a consultant such as Admissionado helps minimize stress and serves as an important quality check at a critical juncture that can be well worth the cost.
Team-Based Discussion Interview Prep
In collaboration with one of the other leading MBA admissions consulting firms, Admissionado provides interactive, team-based discussion (TBD) interview prep for Wharton applicants. Unlike most other firms, the teams' sessions are delivered by consultants who recently served as TBD Facilitators at Wharton. This means clients are able to get an accurate and authentic "insider" experience for this challenging interview format. I also like that clients receive a video recording of the session so they can thoroughly, and privately, study their own performance (cue Nathan Fielder's "The Rehearsal" for those less interview-inclined).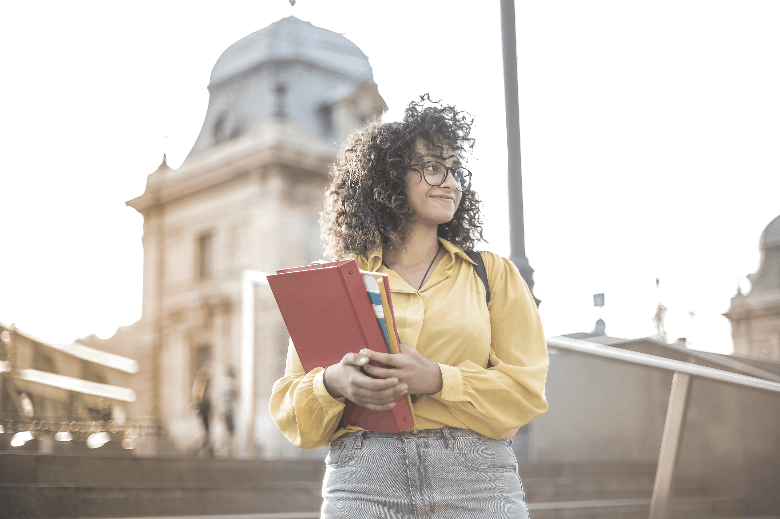 Admissions Consulting Packages
Relative to many other elite admissions consulting firms, Admissionado offers a ton of customizability and multiple service tiers for prospective clients to choose from. This is a great feature as it allows them to work with students with varying applications needs and budgets. 
With respect to their comprehensive admissions consulting services, Admissionado offers three package levels: Silver, Gold, and Platinum (in earlier years they were called Jr. Deluxe and Deluxe).
For those looking for a true, end-to-end application support service, the Gold (or middle tier) package will be the right choice for most. It includes complete coverage across all core components of the admissions process (i.e. everything from discovery and competitive edge positioning to essay development, interview practice, and the other more peripheral components). 
However, for students applying to the most elite schools, I'd suggest considering the Platinum package. It contains additional interview prep support, along with an extra blind review and full admissions committee simulation experience (e.g. Ivy League/M7 Insider Audit).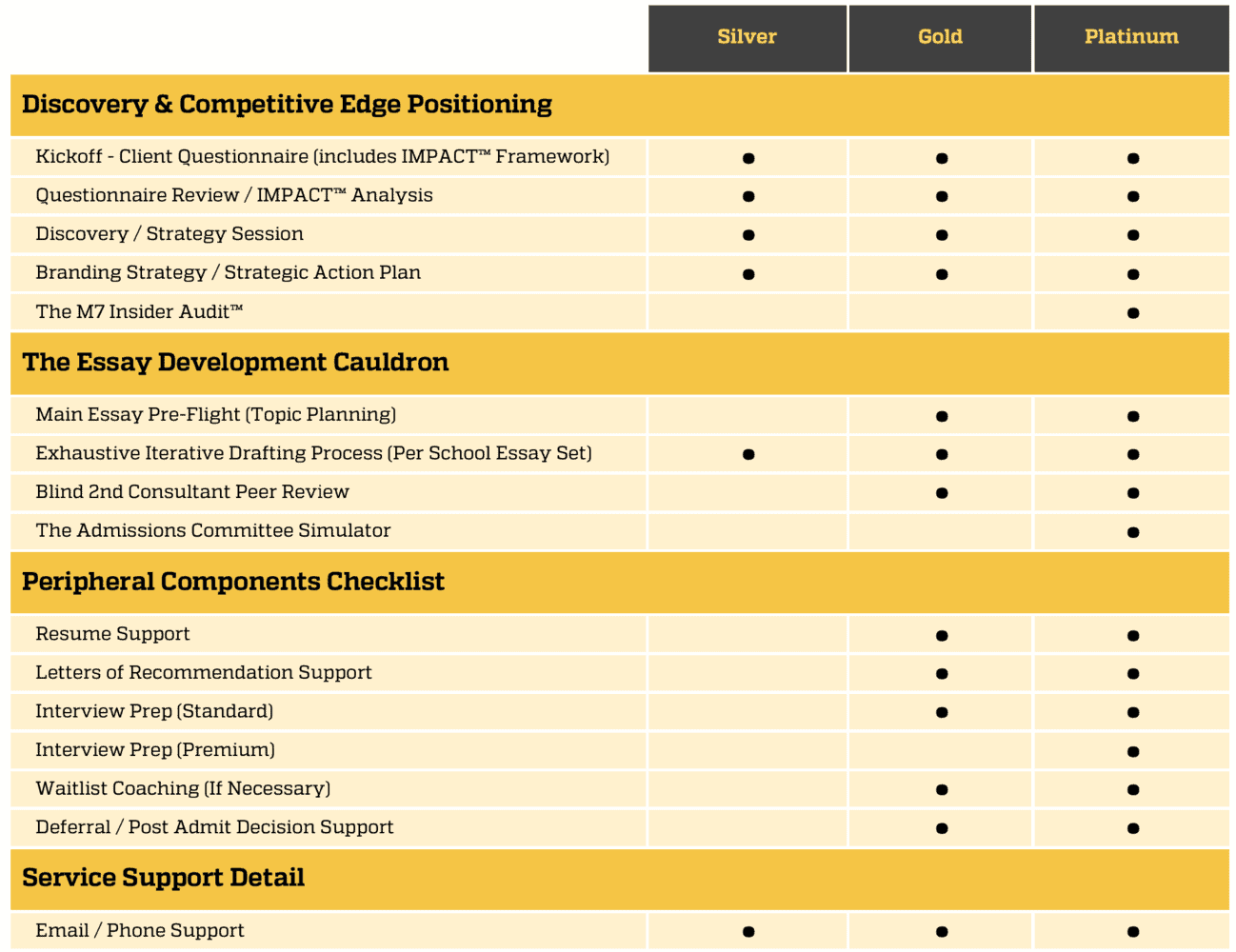 Other Students' Admissionado Reviews
See below for a handful of other applicants' reviews of Admissionado's admissions consulting packages. The black arrows over the images will allow you to flip through the collection. Additionally, Admissionado includes some nice case studies of past clients you can check out, which are located about halfway down their College and MBA homepages.
Admissionado Review: Strategist's Take
Bottom line: If you're looking to meaningfully reduce the stress and anxiety related to the application process, and significantly improve your chances of gaining admission to one or more of your top three schools, Admissionado is a best-in-class option.
For college admissions specifically, Admissionado is in a league of its own with respect to guiding applicants to acceptances at the likes of Harvard, Yale, Princeton, Stanford, and others (and this is particularly true for international applicants).
And for MBA/Masters admissions, Admissionado's unique specialist model is especially useful for applicants who may need  more in-depth help with essays and storytelling/branding in order to gain acceptances at the most prestigious business schools. Given their expert storytelling and essay-oriented focus, Admissionado is a top choice for applicants from less-traditional business backgrounds, such as career-changers, along with international students looking to grow their narrative skills.
Alternatives to Admissionado
If you're unsure if Admissionado is the right fit for you, I've selected a couple of alternatives you might be interested in considering. 
For college admissions alternatives, I can highly recommend Admit Advantage. They're a more affordable option and tend to work with a lot of humanities, creatives, and liberal arts-oriented students. Additionally, you can check out our full list of the best college admissions consultants.
And for MBA/masters students, I encourage checking out The MBA Exchange. They're an MBA specialist (one of the originals in the space) that offers a more professional/traditional feel to admissions consulting, if that's more your vibe. You can also look into our complete list of top MBA admissions consulting firms.
Thanks for reading my review of Admissionado! Please don't hesitate to reach out if you have any questions, and I'd be more than happy to make any personal recommendations for you based on your personal circumstances.