Best MBA Admissions Consultants of 2023-2024
Our Selective List of the Top MBA Admissions Consulting Firms
Given the importance of the "story" behind your application, how do you ensure you're putting your best foot forward when applying to competitive business school programs? How do you best highlight your strengths and discuss potential weaknesses? Does it make sense to address items such as a high GPA paired with a low GMAT score? How do you respond to the frequently open-ended nature of MBA admissions essays? 
For most applicants, the best way to achieve your full business school admissions potential is by working with an MBA admissions consultant. While a consultant may require a nontrivial, up-front cost, the investment is likely to pay off substantially by increasing your odds of acceptance at the top MBA programs.
The only firm with a complete panel of former MBA admissions officers from every top program (including Harvard and Stanford).

5 Former Harvard HBS Admissions Officers

3 Former Stanford GSB Admissions Officers

"All-In" Sevice: Unlimited Time with No Caps
Best MBA Admissions Consultants Ranked
Though small in relation to the cost of business school, the price of an MBA admissions consultant is still meaningful to most. Whether you choose to pay for specific services at an hourly rate or purchase a complete school package, you'll want to perform thorough due diligence to feel confident in your decision. To help in this process, we've assembled a list of the best MBA admissions consultants for the 2023-2024 business school admissions cycle. 
The comparison chart below gives an overview of each consulting firms' prices, services, and qualifications.
| | | | | | |
| --- | --- | --- | --- | --- | --- |
| Top MBA Admissions Consulting Firms | | | | | |
| | | | | | |
| | | | | | |
| | | Expert Storytellers & Essayists | Professional Feel, Dual Degree | | |
| Firm Years of Experience (YOE) | | | | | |
| | 27 Former AdCom (141 YOE) | | | | |
| | | | | | |
| | Full Support for All Formats | Tiered by Package Options | Tiered by Package Options | | Special Formats at Extra Cost |
| | | | | 2nd Consultant Essay Review | |
| | | | | | |
| | | | | | |
| | | | | | |
| 1-School Base Package Price | | | | | |
| Cost per School (5-Schools) | | | | | |
| | | | | | |
Top 7 MBA Admissions Consultants Reviews
We'll now take a closer look at each of our top 7 MBA admissions consulting firms. You can use the jump-to-links below to quickly navigate through the reviews of our top-ranked firms.
After the reviews, we'll evaluate three other honorable mentions to round out our top 10 list and discuss our ranking process before diving into some frequently asked questions about MBA admissions consultants.
Stacy Blackman Consulting | Rank: #1
For over twenty years, The Stacy Blackman Consulting (SBC) team has helped aspiring MBA students get admitted to their target schools. With past admissions officers from the top MBA programs in the world, SBC utilizes a unique hybrid, team-based approach paired with a primary, dedicated consultant to ensure every component of your candidacy is full-proof and tested by a relevant specialist. 
Stacy Blackman All-In Package Overview
In our opinion, Stacy Blackman Consulting offers the best all-inclusive admissions packages available. They begin with a flexible and personalized consultant pairing process, which allows you to review detailed bios and speak with potential partners so you feel comfortable and confident in your decision. Selecting the right admissions consultant for you is critical. SBC won't accept payment or start the process until you believe that you've found the right match. 
After thoroughly evaluating the who, what, how, and why that form your story, your primary consultant, along with the support of the full team, gets to work implementing your personal strategy across all points of contact with your target programs. They make sure that every element of your candidacy, from informal communications to essays and recommendations, will help you stand out from the thousands of other applicants in a positive way.
Recognizing that clients must frequently balance many other commitments, the Stacy Blackman team is available not only during business hours but also on evenings and weekends to accommodate applicants' busy schedules. Additionally, for every component of your application, there are no limits on the number of reviews or rounds of edits. This includes access to the entire Stacy Blackman team, which is great for getting an "Extra Eyes" review from a relevant specialist. Clients also benefit from an online resource center that contains sample essays, resumes, interview transcripts and more to gain school-specific insights.
One of my favorite aspects about the Stacy Blackman all-in package is their custom application "Flight Test" process. Once you've drafted a full set of application materials for a target school, your "application" will be sent to a former admissions committee member and evaluated in that school's respective adcomm style. This allows you to benefit from a true admissions committee review and work with your primary consultant to incorporate feedback before sending off your finalized application.
The admissions interview is often cited as the most stress-inducing component of the MBA application process. To help take the stress out of interviewing and develop your confidence, Stacy Blackman Consulting provides a custom video interview platform. This tool allows you to record your response to automated interview questions, evaluate and refine your technique, and submit a video interview for complete feedback from an MBA interview specialist. 
You will also complete scheduled mock interviews with your primary consultant, following the interview styles of your target schools. The HSW triumvirate: Harvard, Stanford, and UPenn Wharton, each utilize unique interview formats, and the Stacy Blackman team has your back with specialists for each type. Whether you need to prepare for Harvard's intensive, inquisitorial approach, or Wharton's collaborative group interview discussions, your consultant will make sure you develop the confidence and precision necessary to ace the interview and get admitted. 
Stacy Blackman MBA Program Experience
Stacy Blackman is the only firm with a complete panel of former MBA admissions officers from all the top programs. To say the team's admissions experience runs deep would be an understatement. Specifically, the SBC team is comprised of:
3 former Harvard HBS admissions officers
3 former Stanford GSB admissions officers
7 Kellogg and Wharton admissions officers
Admissions officers from all other top ranked business schools such as MIT, Chicago Booth, Columbia, NYU Stern, Duke Fuqua, London Business School, INSEAD, Oxford SAID, and more
Stacy Blackman Featured Consultants
See below for several of Stacy Blackman's featured consultants. A more complete list is available on their site.
Laura: Harvard Business School Admissions Board, MBA from Harvard Business School (HBS)
Jennifer: Admissions Officer at Stanford's Graduate School of Business (GSB), MBA from Stanford GSB
Anthony: Associate Director MBA Admissions at the Wharton School at the University of Pennsylvania
Susan: Director MBA Admissions at London Business School (LBS), Director MBA Programs at Columbia Business School (CBS)
Andrea: Director of Harvard Business School Admissions, MBA from HBS
Admissionado has been inspiring and helping students get admitted to their dream MBA programs for over 16 years. The firm differentiates itself through an interesting approach in helping clients assemble their MBA applications. At Admissionado you'll be paired with an elite strategy consultant, along with a best-in-class essay specialist (or what they like to call "storytellers"). This duo will help you through every aspect of the admissions process from start-to-finish should you decide on an all-inclusive school package. 
Admissionado Deluxe All-In Package Overview
If you need attention on every aspect of your business school application, an all-in package from Admissionado may be worth your consideration. They start the engagement process with a highly targeted questionnaire in order to identify your most powerful MBA application opportunities. This is an important step in their process because they believe most students don't know where their true strengths lie, nor what admissions committees are actually looking for. To correct for these miscalculations, your experienced Admissionado strategy consultant will bring your strengths into alignment with those that are meaningful to MBA admissions officers. 
After thoroughly getting to know your strengths and weaknesses, your consultant will then begin to help package your application "in a way that's not just coherent, but electric." This is the part where Admissionado's storytellers (or essay specialists) begin to transform your essays and personal statements from good to great by crafting a compelling narrative around your candidacy. To battle-test your application, a separate consultant reviews your admissions materials as if they were rejected and explains why. While I'm not totally sure how I feel about this approach compared to other firms, I imagine it does help uncover some potentially unique insights.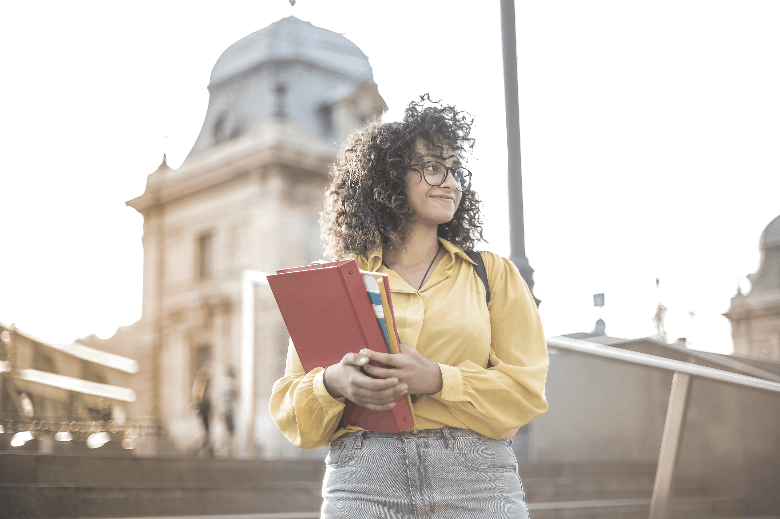 One of the many good reasons to work with an MBA admissions consultant is for the third party support in helping steer letters of recommendation. This can be a fine line, and it's critical to not compromise anyone's integrity. That being said, admissions officers need useful letters of recommendation, and your recommenders may not be particularly familiar with admissions committees' expectations of them. Using an MBA admissions consultant is a great way to help your recommenders improve their message, without you directly engaging in that process. 
With respect to interview prep, Admissionado includes two phone or skype sessions to review your story and offer tips on how to put your best foot forward. Though definitely not as comprehensive as Stacy Blackman in this domain, Admissionado does offer solid MBA interview services, which include special prep for unique interview formats.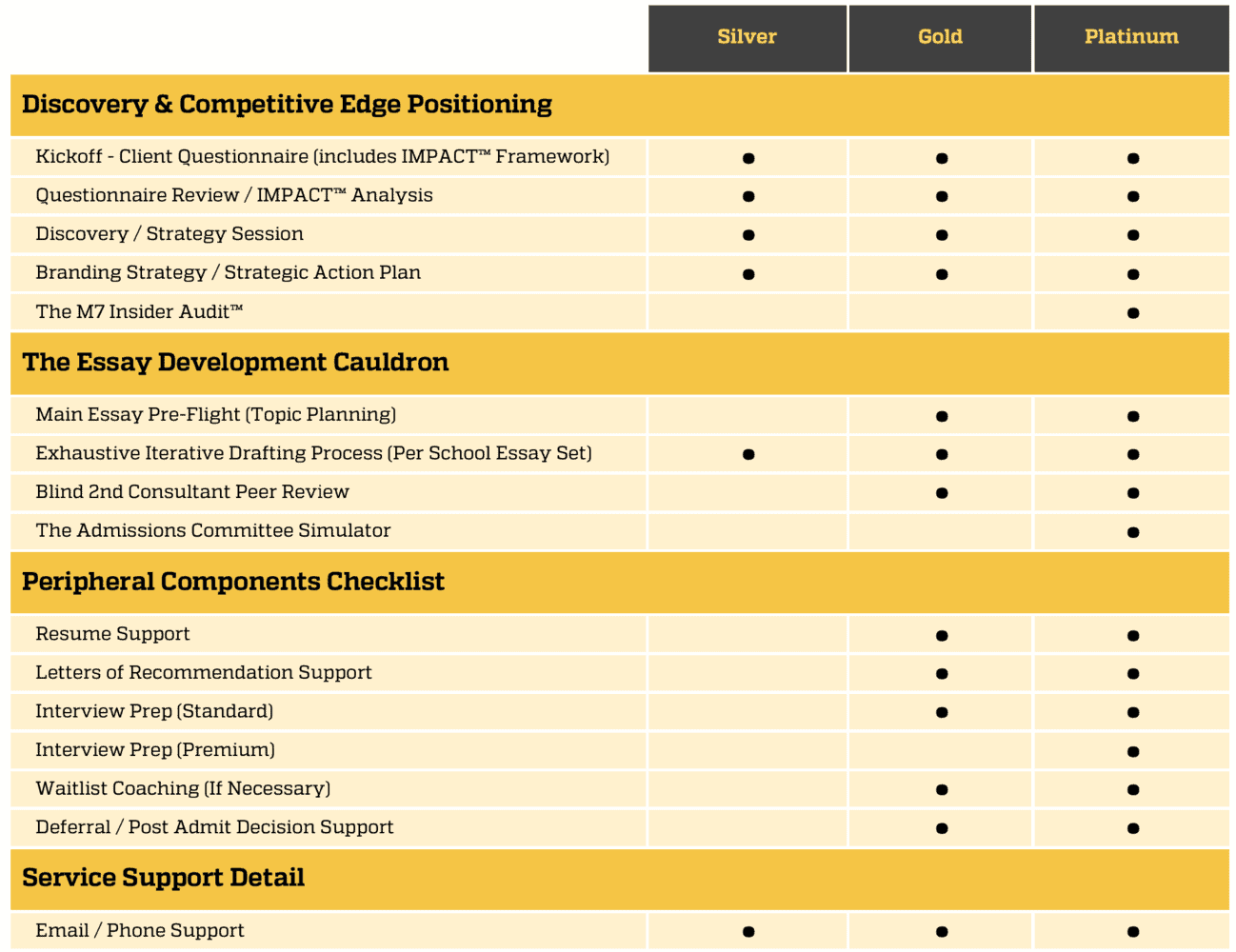 Admissionado MBA Program Experience and Featured Consultants
Admissionado specializes in both college and MBA/M.S./MiM admissions consulting. They maintain a top-notch team of over 70 outstanding individuals, many of whom graduated from top universities and had previous careers in tech, finance, and management consulting. 
Check out a few of Admissionado's featured MBA consultants below.
Jacey: MBA from Wharton, formerly at Goldman Sachs Asset Management 
Damon: MBA from Stanford GSB, award-winning writer and producer
Kirill: MBA from Chicago Booth, former management consultant at Accenture
John: MBA from Duke, founder of Arts & Science Collaborative
Bhavik: MBA from Harvard Business School, launched SurveyMonkey's Enterprise business
The MBA Exchange | Rank: #3
The MBA Exchange earns one of the top spots on our list for their unmatched experience (27 admissions cycles to be exact) and deep bench of former M7 admissions directors. The firm separates itself from a crowded field of business school admissions consultants through a dedicated focus on honing their craft via extensive internal training sessions.
Surprisingly, not all MBA consultants invest in this level of continuous improvement or seek up-to-date knowledge of admissions trends specific to each school. This makes partnering with The MBA Exchange a competitive advantage for applicants willing to go the extra mile in gaining admission to the likes of HBS, Wharton, Stanford GSB, and other elite programs. 
The MBA Exchange All-In Package Overview
The firm offers three different service tiers – Silver, Gold, and Platinum – in order to suit a wide range of motivated applicants with varying needs of assistance in the MBA admissions process. The Silver package is ideal for those who prefer to manage most of the process themselves but would like guidance and input on competitive positioning and essay refinement. The Gold package is comparable to the all-in packages from many of our other top ranked firms and includes resume development, additional peer reviews, and interview prep, among other services. However, the Platinum package is what sets the MBA Exchange apart with premium services such as the M7 Insider Audit, Social Media Audit, and Admissions Committee Simulator.  
It's important to know that The MBA Exchange Platinum package isn't going to be the right fit for all students. Like Stacy Blackman, it commands a premium price point. However, I can say that you'll get what you pay for: a consulting team serious about delivering results.
The MBA Exchange Experience and Featured Consultants
Along with a deep history in MBA admissions consulting, the firm also positions itself as the go-to authority in specialized joint-degree programs such as JD/MBA, MPP/MBA, Master of Finance, and other Master's or PhD programs. The elite team comprises former admissions officers and graduates from HBS, Stanford GBS, and nearly every other sought-after program. 
Check out a few of The MBA Exchange's featured consultants below. 
Grace: MBA from Stanford GSB, former Harvard and Stanford admissions interviewer 
Adam: MBA from Harvard Business School, specializes in diverse background and those pursuing a career change into finance 
Stephanie: MBA from Kellogg School of Management at Northwestern University, former McKinsey & Co. Consultant 
Alina: MBA from The Wharton School, former Admissions Fellow (Wharton Team-based Discussions)  
Daniel: MBA from the Yale School of Management, former Admissions Committee at Yale SOM 
Admit Advantage | Rank: #4
Admit Advantage earns its fourth-place ranking on our list by "offering the most affordable high-end MBA admissions consulting service in the industry." Their claim is backed up by the fact that they've helped students gain admission to every top school while offering consulting packages priced 30-50% lower than our other top three firms.
Admit Advantage specializes in "no-frills", slimmed-down admissions consulting packages that are focused on the most important components of the application process. This makes Admit Advantage the ideal choice for applicants who don't necessarily require premium add-ons (e.g. social media audits, background checks) but that would like expert guidance on crafting standout essays and nailing the admissions interview.
Admit Advantage MBA All-In Packages Overview
The firm offers two package options: Select and Premium. The Select package is best suited for applicants who primarily need help with strategy and essay development and editing. It's also the most affordable option among all of our top-ranked consultants. This makes it the ideal choice for those on a budget. 
However, if you're looking for additional support across areas such as letters of recommendation, resume editing, and interview prep, then we recommend checking out Admit Advantage's Premium package. The Premium package is comparable to many other leading firms' all-in packages but is available at a fraction of the cost. If we were to summarize Admit Advantage in one line, it would be this: an elite team at a value price.
Admit Advantage Featured Consultants and MBA Program Experience
Admit Advantage maintains a diverse team of MBA admissions consultants from many of the best business schools such as HBS, Yale SOM, and Columbia, among other top programs. Their consultants have a mix of both industry and admissions experience, which makes them a great fit for prospective applicants looking to make a career change. 
Read about several of Admit Advantage's featured MBA consultants below.
Tunde: MBA from Harvard Business School, co-runs the nonprofit – Hope 4 Girls Africa (H4G)
Amanda: MBA from Stanford GSB, attended Georgetown, with experience in entrepreneurship, tech, media, strategy and management
Melanie: MBA from Columbia Business School (CBS), alumni interviewer for Cornell and Columbia
Benny: MBA from UC Berkeley's Haas School of Business, member of the Consortium for Graduate Study in Management
Megan: MBA from The Wharton School University of Pennsylvania, alumni interviewer for Northwestern and Wharton
Accepted is a powerhouse in the admissions consulting industry, having served clients for over two decades across the MBA, med school, law school, grad school, and college admissions domains. As one of the oldest and largest admissions consulting firms, Accepted offers one of the widest selection of specialized admissions services around. This is great for applicants who prefer to pay a la carte rather than purchase a complete package. 
Working with an Accepted MBA admissions consultant will save you time and eliminate a lot of the stress you'll go through when writing and rewriting drafts of your essays and business school resumes. If you decide to go with an all-in school package, you'll have support from the full team paired with a primary, dedicated consultant who will work with you throughout the entire application process.
Accepted Featured Consultants and MBA Program Experience
Accepted stands out in a positive light for their high percentage (over 80%) of MBA consultants who are former admissions directors and officers from the top programs around the world such as Yale, Wharton, Columbia, and Cornell, among others. 
See below for a short list of some of Accepted's highly experienced featured consultants.
Christie St-John: Former Admissions Director at Dartmouth's Tuck School of Business and Vanderbilt University's Owen Graduate School of Management
Jamie Wright: Former Admissions Director at the London Business School
Philippe Barr: Former Assistant Director of MBA Admissions at UNC Kenan-Flagler Business School
Karin Ash: Former admissions committee member at Cornell's Johnson Business School with over 30 years of experience
Esmerelda Cardenal: Former Associate Director of Admissions at Yale School of Management
As one of the oldest firms on our list of top ranked MBA consulting firms, mbaMission has assisted over 10,000 MBA applicants on their journey to acceptance at the world's elite business schools. They are a popular choice among aspiring b-school students and have amassed more than 1,000 five-star reviews on the widely-read GMAT Club forum. mbaMission claims to differentiate itself through a large, full-time staff of admissions experts, writers, and editors who are strictly focused on the MBA admissions process. 
mbaMission Complete Start-to-Finish Package Overview
Like Stacy Blackman Consulting, mbaMission offers a start-to-finish school package with truly unlimited assistance. Their all-in packages include ongoing brainstorming assistance and unlimited revisions of your essays and resume to ensure confidence in your application materials.
One other similarity is that clients have full access to a library of insider guides, which include areas such as business school profiles, interview prep materials, and career exploration primers. Although mbaMission's online library isn't quite as comprehensive as Stacy Blackman's online resource center, it is a nice bonus for students who are still early in their MBA exploration journey.
While mbaMission offers solid support across all facets of the application process, one area where they really stand out is for their competency in "unconventional essay constructions." Top MBA programs are increasingly turning to alternative style essays such as PowerPoint presentations and videos. mbaMission stays on top of these new, unique formats and shares best practices with their clients.
One small issue I have with mbaMission is the way they've tiered the pricing for their start-to-finish school packages. For example, the start-to-finish package for one school costs either $4,900 or $6,000 depending on whether you would like a "Managing Director" consultant, the more expensive option, as your primary partner. They are the only firm on our list of top ranked MBA consultants with this kind of pricing segmentation, and it doesn't sit quite right with me. Does this imply that mbaMission's standard consultants aren't as valuable to clients as their managing directors?
mbaMission Featured Consultants and MBA Program Experience
When compared to other top firms, mbaMission is not staffed with quite as many consultants who have previous full-time admissions officer experience. That being said, they maintain a highly engaged team that makes great effort to stay abreast of MBA admissions trends through consultant teach-ins and constant knowledge sharing through their internal network. 
Check out a few of mbaMission's full-time, featured consultants below.
Debbie Choy: MBA from Stanford Graduate School of Business, industry background in management consulting at Booz & Co. and investment management at JP Morgan
Helen Summers: MBA from Harvard Business School, former HBS admissions co-chair of Afican American Student Union, former director at Management Leadership for Tomorrow
Michael Guttman: MBA from University of Michigan Ross School of Business, former career counselor at Ross with past experience in transactions advisory at Deloitte 
Melissa Merchant: MBA from Northwestern University Kellogg School of Management, 15-year background in strategy consulting (Deloitte) and marketing (Kraft Foods)
Harold Simansky: MBA from MIT Sloan School of Management, former private equity group associate at Bain & Company
Personal MBA Coach (PMC) earns a spot on our list for their customized, personal, and 'no cookie cutter' approach to advising future business leaders through the demanding business school application process. This boutique firm differentiates itself from other expert advisors via a small team with a thorough background in MBA admissions at leading programs. Unlike some other firms, your essays won't be edited by interns, and you won't be passed around among less experienced consultants based on personnel availability. 
Personal MBA Coach Comprehensive Packages Overview
Similar to The MBA Exchange, Personal MBA Coach's comprehensive packages provide unlimited support through the grueling admissions cycle. Additionally, they make themselves available according to what works best for your busy schedule and needs. As an example, should you be fortunate enough to receive an interview invite for Harvard Business School (something PMC has helped numerous applicants accomplish), you'll have to complete a post-interview reflection write up, which is due back to the admissions office within 24 hours. Personal MBA Coach makes themselves available for this crucial, time-sensitive task and offers strategic advice and edits so you can feel confident in your submission. 
What I like best about Personal MBA Coach is how well they really get to know their clients. The boutique nature of the firm allows PMC to produce thoughtful and targeted admissions strategies for applicants, while still offering a comprehensive suite of specialized services similar to the larger admissions consultancies. 
Personal MBA Coach Featured Consultants and MBA Program Experience
Personal MBA Coach has helped applicants get accepted to every elite business school in the world including HBS, Stanford Graduate School of Business, Wharton, MIT Sloan, Columbia Business School, Berkeley Haas, Chicago Booth, Michigan Ross, Duke Fuqua, NYU Stern, Cornell Johnson, and more. For such a small firm, this is an impressive accomplishment and speaks to the power of their personalized approach.
Continue reading below to learn a little bit about Scott Edinburgh, Founder, and Mae Jennifer Shores, Senior Consultant, at Personal MBA Coach.
Scott Edinburgh: MBA from The Wharton School of the University of Pennsylvania, Board of Directors for the Association of International Graduate Admissions Consultants, Founder of Personal MBA Coach with over 14 years of MBA admissions experience 
Mae Jennifer "MJ" Shores: Former Admissions Director at The Wharton School of Business, former Assistant Dean in Admissions at UCLA Anderson, previous board and committee member for GMAC, Forte Foundation, and the MBA Tour
Other  Top MBA Admissions Consulting Firms
While our focus is on profiling only a handful of the top ranked MBA admissions consultants, we would like to briefly call out a couple of honorable mentions. Note that in the reviews below we've focused primarily on why they didn't make the cut for our top six list. However, please keep in mind that all of the firms mentioned on this page are popular choices with proven track records in helping students get into highly competitive schools.
Menlo Coaching Review
Although they have many positive reviews, Menlo Coaching is unique in the admissions consulting world for the way in which they choose to self-select clients. They are the only MBA consulting firm we've come across that asks students to "apply" to work with them. Additionally, Menlo Coaching is not transparent in sharing details on their pricing. Admissions consultants are not cheap in an absolute sense, and every other top-ranked consulting firm is completely up front in displaying the full details of their pricing. Instead, Menlo simply states that "most clients pay a low, five-figure amount for comprehensive support." 
Aringo MBA Admissions Consulting Review
Aringo has received dozens of five-star reviews across popular MBA blogs and forums. However, they like to market themselves as a preferred consultant for applicants who achieved below a 720 total GMAT score. The reality is that all of the best MBA consulting firms have helped students with below average GMAT scores get accepted to their target schools, so this really isn't a distinguishing factor for them. 
Varsity Tutors Review
Varsity Tutors' (formerly Veritas Prep) MBA admissions consultants have a stated goal to relieve much of the stress of the business school admissions process. Their free profile evaluation is a great way to have your chances of admission to your target schools be evaluated by a former admissions officer. 
If you choose to sign up for one of their comprehensive school packages, you'll have complete help across the application process from school selection, essays, letters of recommendation, interview prep, and more. Varsity Tutors excels at assisting their clients in tying together an application that tells your story in a compelling way. Additionally, given Varsity Tutors' team approach that involves a head consultant, specialist, and member of their Ultimate Admissions Committee, the amount of feedback you'll receive should be reassuring. 
While they do offer hourly services in addition to their school package options, their rates are quite a bit higher than most admissions firms. This leads me to believe they strongly intend to steer students toward a comprehensive package. Arguably, this does make sense for most students, and there has certainly been a trend away from offering hourly services at many consultancies.
Selection Criteria for TOP MBA Admissions Consultants
Our top-ranked MBA admissions consultants were evaluated and ranked according to the following selection criteria:
Years of Admissions Experience

: Ever heard of the Lindy effect? Theorized by Benoit Mandelbrot and popularized by Nassim Taleb, the Lindy effect points out that the continued life expectancy of an idea or organization should be approximately equal to its current age. To extend that concept to the competitive, high-stakes world of MBA admissions consulting, firms that have been around longer and who are leaders in the business may expect to remain in that position for years to come. In a network oriented and knowledge sharing domain such as b-school admissions consulting, success builds upon success. Of course, success also attracts competition. If a firm has been able to stay at the top of a competitive industry over a long period of time, it becomes very clear they are focused on playing the long game, rather than shortchanging their clients. 
Number of Revisions and Edits

: While nearly every top consultancy offers some type of comprehensive, all-in school admissions package, not every firm provides truly unlimited revisions and edits for their premium-priced services. Some students may be good to go after just two or three predetermined rounds of editing. For others, their stories may be continually evolving and require additional revisions based on further feedback and brainstorming with their consultant. We prefer firms that are proven to offer unlimited revisions for their all-in packages. 
Consultant Availability

: The MBA admissions process is stressful to say the least, and applicants must juggle work along with their personal/family life while assembling their applications. Partnering with a consultant that can work according to your schedule is an important and often overlooked component of the selection process. You'll also want to hire a firm that can provide you with dedicated services during time-sensitive tasks that may come up during the interview process. Plenty of firms claim to be a one stop shop for start-to-finish services when the reality is only a handful meaningfully deliver on that promise. 
Cookie-Cutter Process vs. Personalized Approach:

Ideally, you'll have a primary consultant working with you throughout the entire admissions process with the backing of an expert team for added support, special services, and as a second set of eyes on your materials. This is our favored approach, and we believe it's proven to bring out the best in your application and get the results you need. While some firms utilize a team approach and others a primary consultant format, very few have mastered the hybrid method in a way that ensures full efficacy across a full client base. 
Past Admissions Committee Experience

: Arguably, it's hard to imagine someone more appropriately suited to advise and evaluate your application than a former admissions officer from your list of target schools. Of course, this is only useful if you have access to the experienced consultants you'd like to work with. To overcome this potential downside, we give greater weight to firms that have a higher percentage of consultants with meaningful prior admissions committee experience, paired with a flexible primary consultant matching process. 
The business school admissions process is constantly evolving and new methods of evaluating candidates are increasingly popping up at some of the world's most prestigious programs. Consulting firms must keep up to speed with these changes and create new tools and resources for their clients to succeed. Bonus points are awarded to firms with additional resources and specialized services to meet the demands of a dynamic, evolving application process.
Things to Consider When Hiring an MBA Admissions Consultant
If you're considering hiring an MBA admissions consultant, carefully consider the following factors:
Does the firm itself specialize in the business school admissions process or at least have dedicated consultants for that purpose? Many of the large companies claim to successfully do it all (College, Medical School, Law School, and Business School) without providing much evidence in terms of successful outcomes. 
If you have strong preferences for attending a specific MBA program, does the firm have consultants who deeply understand the nuances of the admissions process at your selected schools? Working with someone who has past admissions experience at your target school can provide a significant edge in the selection process. 
Can the consultancy provide all the necessary and specialized services that you'll need to help gain admission to competitive programs? Two overlooked services are the quality of group interview prep and video essay guidance. Mastering these challenging formats are key to gaining admission to schools such as Wharton, Yale, Michigan Ross, and the London Business School. 
It's important to keep in mind that unlike with test prep providers, you can't easily switch consultants if you think you may have chosen unwisely. With an admissions consultant, you'll be developing an important relationship over a lengthy period of time. They will be getting to know your personal background, strategizing how to frame your story, and tailoring it to each school.
This makes switching not only impractical from a cost perspective, but also detrimental to your admissions timeline. Additionally, the best MBA admissions consultants tend to fill out their client list fairly early in the cycle. If you decide to switch at a later date, you may be left with a subpar option. 
Affordable MBA Admissions Consultants
Maybe you're convinced you could benefit from working with an MBA admissions consultant but aren't sure you can afford to break the bank for the all-in packages. Fortunately, two of our top ranked MBA consulting firms offer slimmed down versions of their comprehensive packages.
For more affordable options, sign up with a free consult for:
FAQs: Best MBA Admissions Consultants
Top 10 Best MBA Admission Consultants (2023) Prices
| | |
| --- | --- |
| Best MBA Admissions Consultants | 1-School All-In Package Cost |
| | |
| | |
| | |
| | |
| | |
| | |
| | |
| | |
| | |
| | |