For those born between 1997 and 2012, not having social media is considered outside the norm. With 98% of Gen Z users owning a smartphone, it's no surprise then that students who are preparing to apply to schools ask us, "Do colleges look at social media?" The answer is yes (but not always).
Some schools' admissions officers do check public-facing social media profiles. Many admissions officers view social media as just another opportunity to evaluate prospective students and further reveal who that person is.
In this article, we'll discuss why and how colleges look at your social media profiles, what you do and don't want colleges to see on your feeds and accounts, and how you can use social media to your advantage when submitting applications to your top schools. For even more guidance on how social media can impact your college admissions chances, consider exploring whether a college admissions consultant could make sense for your situation. 
Why do colleges look at your social media profiles?
In general, the people reviewing your college applications are far more interested in the components of your application that include your GPA, SAT/ACT scores, and your essays. However, a public-facing digital persona can give admissions officers an inside look into who you are as a person, and potentially a testament to your behavior in and outside of a classroom.
As applying to college becomes increasingly more competitive, colleges and universities are looking for students that represent the values of their school, and don't want to accept students whose values may conflict with the mission and vision of their university (especially if you are being considered for academic or athletic scholarships). 
Additionally, if you are applying to some of the premier schools in the country, you'll be contending with exceptionally qualified applicants. Oftentimes, social media can be utilized as a tool to further investigate a student's academic and personal highlights when the applicant pool is so strong that a school needs further information to make decisions between candidates. 
A social media account can make or break an admission officer's perception of you depending on what they find. Posting about personal highlights and achievements on your Instagram for example can be a potential plus for an admissions officer scrolling through your feed.
But a picture of you drinking underage at a party or participating in illegal behaviors can be incredibly damaging to your chances of getting accepted to your top schools. This type of behavior is seen as a major red flag and will be noted within your application. 
Not only the pictures that you post, but what you write, can communicate a lot about who you are. Colleges that check your social media can look for things like offensive language (posts that appear sexist, racist, homophobic, or crass).
In most instances when colleges are guided towards a student's inappropriate behavior online, it is by an outside source who has reported what they've found to the college or university. Lest we not forget the 10 students who were denied their admissions to Harvard when an incredibly inappropriate and offensive Facebook group was discovered online and reported. 
While your SAT/ACT scores, GPA, and personal essays, are the primary benchmarks from which an admissions board will make their decisions, keep in mind that while admissions officers may look at your social media, the reality is that they are evaluating thousands (and sometimes tens of thousands) of applications. Not every school will check applicants' social media. 
Most often, people in an admissions department look at a prospective applicant's accounts when a student has provided a link to their own profile in their application materials. This can be useful in adding more information and showcasing personal achievements or highlights to your application, but sometimes there is not enough time to review your social media due to the volume of applications to the schools. 
It should be understood as well that those reviewing social media accounts are not looking to reject students. Scrolling through your social media, when colleges do find the time, is to look for additional reasons to admit a student, not disqualify them from the admissions process.
So before you log on to your social media accounts and post a long, rambling and inappropriate status update à la stream of consciousness… don't. Your chances of receiving an acceptance letter to your dream college, or even an academic or athletic scholarship, could depend on it.
How do colleges look at your social media profiles?
Colleges and universities can look at the public version of your social media accounts, but it should be noted that colleges are not hacking into your social media accounts to access information that is private. More often than not they are googling you or looking at social media profiles that you have opted to provide in your application. 
Something that has changed over the last few years is the level of interaction between colleges and potential applicants online. With almost every college having some form of Instagram, Facebook, Twitter, and even TikTok accounts, potential students are encouraged to engage, follow, like and comment on colleges' social media. 
Colleges are also now utilizing marketing algorithms to predict applicant behavior and create more targeted prospective student profiles.This can be a great opportunity for students to set themselves in their dream school's sights, but only if their personal social media accounts are in a state where they can act as an asset for that student. 
Your social media is a digital file folder of your friends, the people who follow and engage with you, your pictures, and your writings and musings. This can work to your benefit or be a drawback. 
What you don't want colleges to see on your social media profiles
Log in to your social media accounts right now and ask yourself the question, "Would I want this information (whether personal, professional, or academic) to be included as a special note in my application?" If the answer is yes, congratulations! You've got polished, supplementary digital documentation of your accomplishments and hobbies that colleges may look at when making admissions decisions.
But if you answered no, ask yourself why. Is your social media profile just a photo montage of your dog sleeping in the sun (not lethal to your college admission acceptance)? Is it a visual chronicle of bad decisions involving you and your friends? Is it a digital diary of immature, thoughtless posts that you wrote when you were 15?
When what you post on social media can matter in whether or not you get accepted to college, it's important to follow better digital practices while engaging and sharing information about yourself and others online. 
Here are some things you don't want to be posting or engaging with on your social media that can impact admissions decisions:
❌ Underage Drinking / Illegal Behavior / Explicit Images
There's certainly nothing wrong with having a social life and spending time with your peers. But be careful about the kind of images that you post on your social media. Pictures that include alcohol, underage drinking and/or drug use, and wild partying can showcase a lack of judgment to admissions officers. 
Anything involving alcohol or drugs, offensive signs, or nudity, are definite no goes. Again, ask yourself, "Would I want this information to be included as a special note in my application?"
❌ Offensive Language or Media
One of the positives of social media is that it is a platform to express your views and ideas and connect with people who may share those opinions and values as well. This is also an exciting part of attending a college or university as well! 
However, when you're posting online, be cognizant that the way you express your ideas and viewpoint isn't in a way that disparages others or expresses offensive attitudes toward particular groups of people, your friends, or your teachers and administrators. Obvious, common-sense things to not post would be racially charged, sexist, homophobic, or bigoted, language or imagery. 
In regards to swearing, while it is widely understood that people swear and no one is perfect, avoid using profane language while posting. An occasional swear word won't automatically bounce an acceptance letter, but it comes back to the idea that an admissions officer may look at what you're posting and see a lack of judgment. 
Sometimes students will post things that are meant to be funny to some, but can be misinterpreted by others. Don't take the chance that someone could misunderstand what you meant by posting something in jest, and ruin your chances of acceptance. Not everything that you think is funny is funny to others, and vice versa. 
Would it be appropriate to talk about these feelings of yours with the person leading your college interview? If not, stay away from posting it online. This sentiment can also relate to controversial or highly polarizing topics. Additionally, following polarizing or controversial figures can be perceived negatively depending on who is looking at your social media. This is best to be avoided. 
To reflect, some things are better left alone. Remember, nothing ever truly disappears on the internet, so think before you post.
❌ Inappropriate or Offensive email or social media usernames/handles
An often forgotten digital marker can be the email associated with a social media account, and the username or handle itself. You absolutely do not want these identifiers to have rude or inappropriate references associated with you. 
And please (PLEASE!) do not submit a college application with an inappropriate, childish email address. This is an automatic red flag for admissions officers. Pick something that is professional. Even if it's not offensive, but simply "cutesy," it's better to go with something professional.
What should I do to clean up my social media before sending in my applications to college?
Here's the reality. It's better to not post things that are potentially offensive or character damaging in the first place. You can lose acceptances and scholarships because of negligent and inappropriate online behavior. If you believe that you have posted things online that you now think could be questionable in judgment, it's time to clean up your social media. To thoroughly vet your social media profiles and internet presence, here are some things we recommend you do before applying:
Go Through Your Social Media and Vet Posts and Content for Appropriateness
Written posts, tweets, comments, replies, and likes
You'll want to go through your posts and make sure you haven't written anything potentially offensive, profane, or disparaging to others. These are big red flags to admissions officers, so look through your posts and remove any offensive language or profanity. Don't forget to look at what you've commented on other people's posts or your response to comments on your own posts. 
A lot of people forget what they write in their social media bios as well, so make sure to check those too. Don't just worry about what you've written for the last couple of years as your Facebook status. Look at all your posts and what you've engaged with. It's also important to remember that on social media platforms like Instagram, people can see what you "like." Don't let what you like allow people to associate you with a group of people that would make an admissions officer think twice. 
Images, Videos, and Reels
Remove any visual documentation of underage drinking or illegal drug use, and wild partying. Don't forget to look at things like your profile picture, uploaded photos, or banner images for sites like Tumblr and Facebook. 
Any images or videos associated with your name that showcase offensive content or insensitive material can be damaging to your overall application and perception to admissions committees. If you have a public Youtube Account, make sure there isn't anything associated with your account, like channels that you've followed or engaged with, that would be a mark against your application. 
Followed Accounts, Groups, Lists or Pages
If you follow accounts, lists, or pages that you wouldn't want an employer or college admissions officer to see, unfollow them or remove yourself from groups and forums. 
It is important to manage who you follow, because who you associate with, both in the real-world and online, can be a major indication of your values, opinions, and interests. 
Old Social Media Profiles
Remember that tumblr page you made when you were 14 and going through "a phase?" Just like you would be mortified if it saw the light of day amongst your friends, it will be equally as mortifying to know that the person vetting your college application could possibly see it too. 
Either clean it up, deactivate it, or delete it. Like most people, your views and ideas have most likely changed, and you've probably grown up a lot since then. Don't let something that is not a reflection of who you are now define who you want to be and where you want to go in the future. 
Adjust your privacy settings
If your social media profiles are public, make adjustments and set them to private. This will limit who can see what you are posting and writing. Depending on what social media platform you are using, and if it is public, people may be able to see what you are liking, what you are commenting on, and who you are following. 
You can also change the handles and usernames of your account so that colleges and universities can't directly associate a specific social media profile with your name. 
Some students opt to delete and shut down their social media entirely. While this is one way to manage and mitigate potential negative situations involving your social media, sometimes making a few adjustments is all that is necessary. 
Something to remember as well is that while you may have kept your social media use private, a limited amount of things you have posted may be visible to people who follow the same people as you, such as Facebook. If someone who follows you reshares your images via their account, other people may be able to see your private content on their profile or feed. 
In this instance you may want to create another account that is not friends with your primary account and check to see what non-friends can see. You could even ask family members who don't follow you on social media to look you up online so you can see what they have access to and can see.
If you want to look at what other people will see when they look you up online, put your web browser in incognito mode and type your first and last name into google (don't forget to look up your commonly-used nickname with your last name too if you have one). 
If what pops up makes you cringe, or you are doubting its appropriateness, you should make an effort to clean up your online presence. This also gives you the ability to see old pictures or profiles that you may have forgotten exist. 
Additionally, this allows you to see if someone else has tagged you in any potentially unflattering or dicey photos. It is also in your best interest to google usernames or handles of specific social media accounts to see what pops up in the search engine as well.
What you do want colleges to see on your social media profiles and can leave up
Social media can positively or negatively affect your chances of acceptance and can even have repercussions regarding academic and athletic scholarships. Colleges can utilize an applicant's social media to access supplemental information about prospective students beyond what they receive from their applications. With that in mind, here is a list of things that you would want a college admissions officer to see if they perused your social media profiles (and could work in your favor regarding an admissions decision)!
✔ Your interest in their school or university
If you are actively engaging with the social media profile of your top schools, this can be a good sign to those colleges and universities that you are very invested in attending. By following a college or university's account, liking their posts, or tagging the school and posting pictures of yourself when you take a tour, schools can potentially see that you are making an extra effort to communicate to them that you would like to apply or attend. 
Oftentimes, specific departments within the schools you are applying to have their own social media profiles. If you know exactly what majors you would like to pursue, or are interested in learning more about them, following these specific social media accounts can also help demonstrate your interest in the school and communicate your interests as well!
✔ Your aspirations, passions, and hobbies
If you've provided well-written, well-thought out essays, your social media should be an extension of the things you've potentially referenced or discussed in your application. 
For example, if you wrote about your love of art and your commitment to creating a strong art portfolio, it would be to your benefit to have documentation on your social media of your artistic passions and aspirations if you included your social media profile in your application. 
If you did not include your social media profile in your application, and an admissions officer were to look at a public social media profile and not see any references to things talked about in your essays or list of extracurriculars, that may raise a question or two to the authenticity and credibility of your answers.
✔ Personal highlights and accomplishments
Documenting personal highlights and accomplishments can leave positive impressions on potential admissions officers reviewing your social media. These kinds of things can resonate with an admissions committee and validate that you are an excellent applicant for their school. 
This can also be an opportunity to show personal milestones or achievements that didn't make it into a personal essay. Examples of things to include on your social media that are personal highlights and accomplishments are graduations, leadership roles and responsibilities, award ceremonies, volunteering, life-changing trips, experiences, or events, or performances in concerts, exhibitions, or competitions.
How can you use your social media accounts to benefit your chances of an acceptance?
Students can and should utilize social media to draw attention to highlights, accomplishments, or hobbies and skills that may or may not have been mentioned or noted within their application. If done right, your social media could benefit you as a pseudo-supplemental, digital essay about your aspirations, passions, and hobbies. 
Here are some of our recommendations as to how you can utilize social media as a powerful tool to benefit your chances of acceptance:
Create new social media accounts specifically for applying to college
If you are serious about taking advantage of social media as a way to broaden a college admissions committee's understanding of you as a potential student, it can be to your benefit to create social media profiles specifically for when you apply to your top schools.
Make sure the usernames and handles that you select for these accounts are appropriate and professional. If you can't use your full name, try to use a variation on your name as closely as you can and perhaps include a number or character. Additionally, make sure your profile pictures are appropriate as well. 
Thinking of social media profiles as digital portfolios, or resumes, can be a great way to bring attention to what you've discussed in your application, as well as act as an extension of your application. For example, if you're an artist or musician, having an Instagram or Youtube channel can be a great way to show off your work. Some people even go the extra mile and create websites for themselves!
If you do a lot of volunteer work or traveling, having a Facebook or Instagram account is a great way to showcase images from events or trips. Having a LinkedIn page can be a great way to structure your accomplishments, extracurriculars, and work experience in an online profile. And if you're an MBA applicant, be sure to check out our list of the best mba admissions consultants for additional guidance on how social media profiles can impact business school admissions. 
Link to your curated social media accounts in your college applications
Again, many colleges don't look at applicants' social media. However, if the option presents itself on your application to insert a link to your social media, and you feel that your social media showcases your life, hobbies, and talents in a positive way, it would be in your best interest to link your social media accounts to your applications.
When applying to certain schools, there are opportunities for you to insert links within your application to relevant profiles or social media platforms. A number of competitive colleges, such as Ivy League schools, will click on those links (if you provide them within your applications). 
Social media can be a strong extension of your application, and provide you with an opportunity to give more in-depth information about who you are in and outside of a classroom, and not be limited by an essay word count. 
Don't forget to make sure your privacy settings for these accounts are set to public so that admissions officers aren't blocked in reviewing these links and profiles.
Continue to post after you've sent in your applications
Don't go to all the effort to polish your social media, or create college-ready social media accounts specifically for the application process, and forget to continue posting after your applications have been submitted. While it can take a few months before you receive an admissions decision, the time between when you apply and when you hear back is when admissions would be looking at your profiles or looking you up online. 
You can use this time between when you apply and when you hear about an admissions decision to post on your social media about progress on things you may have mentioned in your essays and application such as personal projects, volunteerism, awards, etc.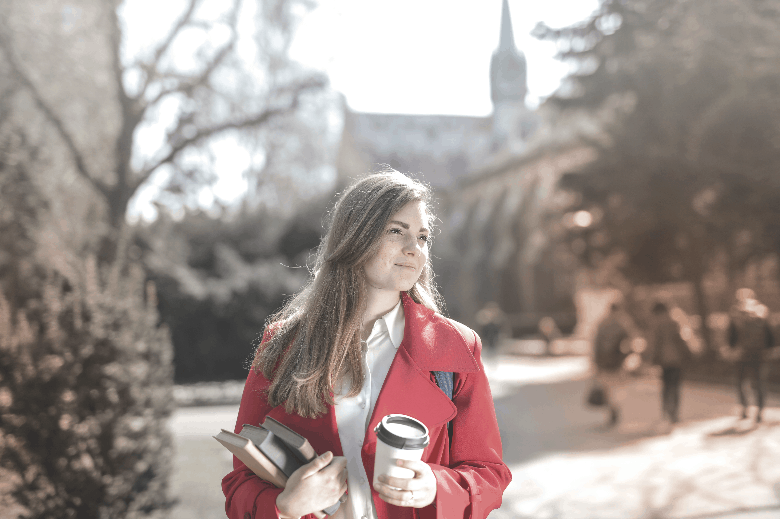 In conclusion: Do colleges check your social media?
Do colleges check applicants' social media? The answer is yes, but not in every instance. College admissions officers look through thousands of applications (sometimes tens of thousands) and don't have time to personally review everyone's social media accounts. Oftentimes, admissions officers will only look at your social media if you yourself have provided a link within your application. 
That colleges are unlikely to take a peek at your social media profile isn't a reason to not do your due diligence and make sure that your social media does not affiliate with or contain inappropriate content. At a minimum, your social media profiles should be clear of any unseemly or offensive language, evidence of underage drinking or illegal behaviors, and should not have inappropriate handles or usernames connected with the account.
But if you consider that your social media profiles can be a reflection of who you are, your interests, and passions, then it can be highly beneficial to treat your social media presence as a tool that can improve your chances of admission to your top schools. 
You can and should utilize social media to draw attention to your passions and interests, accomplishments, or noteworthy life events that may not have been mentioned or noted within your personal essays and application. If done right, your social media profiles can act as supplemental, digital components to your college applications.
Frequently Asked Questions: How does social media impact college admissions?
If you'd rather keep the content of your social media out of the eyeline of college admissions officers, it's best to set your social media profile settings to private. Oftentimes students will switch their accounts from public to private, but that doesn't mean everything you've posted is inaccessible. 
If you've been tagged in comments or pictures by others, admissions officers may be able to see some of your content, or images of you, in others' content. Make sure you know what the setting "private" covers, or is limited to, based on each social media platform. It can vary from app to app. 
We recommend that students thoroughly vet their social media profiles before applying in order to ensure there is no inappropriate or offensive content associated with their accounts.
While you can go online and deactivate or delete accounts, it doesn't have to always be the case. If you know that you have not posted anything inflammatory or offensive on your accounts, you can rest easy knowing that if an admissions officer looks you up all they will see is a positive reflection of you.
A lot of times students will delete accounts or huge swaths of posts because of images of themselves at parties. If you are not drinking underage, engaging in illegal activity, and are documented at a well-controlled party or event, it's okay to leave images of you socializing with your peers up (it is okay to have a social life)! 
But if you are questioning whether or not posts, images, or comments from your account or profiles could raise the eyebrows of an admissions officer, you should consider cleaning up your social media profiles at the very least. 
Remember, even if you delete or deactivate accounts, nothing is ever truly permanently deleted. For some apps, if other people have engaged with your posts by commenting, or have reposted images or content, that information can pop up within those apps or through google searches. If you are concerned that content still exists because someone you know has tagged you or reposted something of yours, you may want to consider asking them to take that down or untag you.
Colleges may check any potential social media accounts, but they are more likely to do so for those that are actively used. In a recent Morning Consult poll, data collected showed that Gen-Z's most used platforms were YouTube, Instagram, TikTok, Snapchat, Facebook and Twitter, and that 38% of these users spent four or more hours per day on social media.