PrepScholar is possibly the best GMAT prep course for efficient studying. Their on-demand, 4-month review course is packed with actionable strategies taught by instructors who scored at the 99th percentile on the exam. PrepScholar offers an industry-leading 60-point score improvement guarantee and maintains one of the lowest prices in the comprehensive GMAT prep course category. Continue reading to discover whether PrepScholar is the best GMAT prep course for you.
PrepScholar GMAT Review Outline
Although we'll be covering PrepScholar's GMAT review course in-depth, please feel free to use the links below to jump to the most relevant sections for you:
Which Students Are Best Fit for the PrepScholar GMAT Review Course?
The PrepScholar GMAT review course is best for students on a budget who desire the flexibility and self-paced features of an on-demand course, paired with a level of personalization and accountability more commonly associated with instructor-led review classes. Basically, the best of both worlds.
PrepScholar GMAT Review Course Overview
Unlike most on-demand prep course providers, PrepScholar makes a concerted effort to get to know their students' test prep needs and creates many opportunities for student communication with their instructors. The course starts with a relatively lengthy sign up process (albeit for good reason), with prompts to plan your study times, elaborate on goals and areas of improvement, and ask specific questions. That last part is key as PrepScholar actually takes the time to personally answer your questions from the sign up process. 
This theme of customization and personalization runs deep through the course. After completing the smart diagnostic assessment, you'll be given a personal study plan, along with a customized curriculum tailored to your difficulty level that will adapt as you progress through the course. Additionally, you'll receive weekly reports on your progress as well as customized feedback to keep you on track and motivated in your GMAT studies.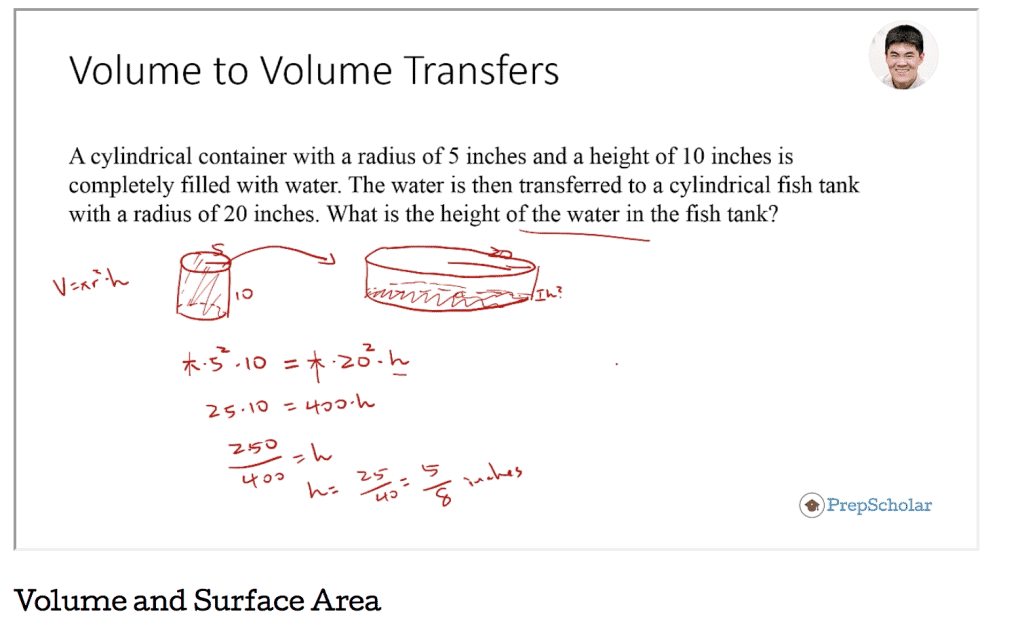 As for the content itself, PrepScholar makes use of both text and video-based instruction in their lessons to meet the needs of a wide variety of learners. In terms of video production quality, I'd place PrepScholar well ahead of Magoosh. However, I found the quality of instruction for the main content video lessons to be fairly comparable between the two. The key difference is that PrepScholar's instructors are all 99th percentile GMAT scorers and their course reflects that with comparatively more in-depth strategy lessons. 
Overall, PrepScholar offers outstanding value with an industry-leading GMAT score increase guarantee of 60 points and a more personalized feel relative to other online course providers. Their more than 1,200 real practice questions, 4 computer adaptive practice tests, and dynamic, adaptable curriculum will be sure to help you study efficiently and effectively so that you'll feel confident in your knowledge by exam day.
PrepScholar GMAT Course Pros
Affordable Price: PrepScholar offers one of the least expensive GMAT prep courses on the market. You can pick up 4 months of access to their most popular review course package at a discounted price of $259 (normally $399). Or, if you have no more than $150 to spend on GMAT review materials and don't require a score increase guarantee, a "lite" course option is available for just $139. 
Quality of Instructors: Similar to Manhattan Prep, all of PrepScholar's instructors have scored at the 99th percentile on the GMAT, so you can trust you'll be learning from teachers who truly know the material inside and out. For perspective, a top 1% GMAT score (760+) auto qualifies you for Mensa membership (i.e. you're basically a certified genius). Achieving a score like that is no small feat and these instructors excel at teaching effective actionable strategies to help you score higher on the exam.
Accountability Features: Personally, one of my favorite characteristics of this course is its focus on helping you remain accountable in your studies. With detailed progress reports and friendly email check-ins from course instructors, you'll remain on track and get additional help if and when needed. 
Add-On Tutoring Options: PrepScholar offers several tutoring options that are perfect for students who need the extra individualized attention (and have money to pay for it). Despite the high cost, their tutoring packages are actually priced at one of the cheapest hourly rates around ($99/hour). Additionally, you can purchase PrepScholar's Full Tutor-Led Complete Prep package for $1799, which includes 10 hours of private tutoring. With this option you'll be following an entirely tutor-led study plan. This is a great choice for students who need both the flexibility of an on-demand prep course, paired with fully-guided, expert instruction.
5-Day Risk-Free Trial: If you decide to purchase the course, you'll have up to 5 additional days to decide if it's the right choice for you. If for whatever reason you determine their course is not the best fit, you'll be able to receive a full refund. Note, this offer is not often found with the larger, more established prep companies. 
Course Personalization: PrepScholar focuses on delivering a personalized experience with phenomenal customer service along with their CustomPrep algorithm, which creates individualized study plans that adapt according to your needs throughout the course. This ensures you're being challenged at just the right level and progressing in the areas identified for improvement.
Best-In-Class GMAT Score Improvement Guarantee: No other GMAT prep course offers a 60-point score increase guarantee. To be frank, this is a really big number to promise so this tells you that PrepScholar is really confident in their course. Improving your GMAT score by 60 points could easily put you in the running for scholarship money if you're starting from a mid-600s baseline.
PrepScholar GMAT Course Cons
Quantity of Content: While PrepScholar may offer one of the lowest cost GMAT prep options, they admittedly don't have the greatest number of practice questions or hours of review lessons. Of course, this is on a relative basis and many students won't necessarily need the several thousand additional questions offered by some of the more expensive prep courses. 
Relatively Short Access Period: Arguably, I think this may be the biggest drawback for PrepScholar. Their most popular course package option only includes 4 months of access (compare this to Magoosh who offers 12 months). While 4 months of study might be the sweet spot in theory, not everyone is able to execute in this timeline (especially if a retake is in order). 
PrepScholar GMAT Review Course Pricing
For their completely customized, online GMAT prep course, PrepScholar costs $399, though you can get it via this offer for $259. 
For well under $300, you'll receive the following features:
4 months of access

Fully customized study plan

50+ GMAT lessons

1,200+ real practice questions

Detailed answer explanations

60 point total GMAT score improvement guarantee
Now, I should mention that they offer a lower tier prep package (regularly priced at $249) with fewer practice questions, only 3 months of access, and no score improvement guarantee. However, our recommendation would be to stick with the more popular package that includes 4 months of access and the full guarantee.
Final Verdict: Is PrepScholar the Best GMAT Prep Course for You?
In my opinion, PrepScholar delivers on its claim to help you make more progress in less time. With its customized curriculum and handy progress tracking tools, you'll be able to stay on track and achieve meaningful strides in your mastery of the exam concepts. On average, PrepScholar students improve their GMAT scores by 65 points (and 25% improved by 70 points or more). A score improvement like that could make a huge difference in your MBA admission potential. If you are looking for a convenient and efficient review course at an affordable price to help you score higher and get into your dream MBA program, PrepScholar might be the best GMAT prep course for you.
Frequently Asked Questions: PrepScholar GMAT Review
Do they provide a GMAT score increase guarantee?
Yes. In fact, PrepScholar offers the best GMAT score increase guarantee among all the courses we reviewed. If you are unable to improve your total GMAT score by at least 60 points, you will be entitled to a full refund.
How significant is a 60 point improvement on the GMAT? If you were scoring at a 650 level prior to PrepScholar, you'd be competitive for programs such as George Washington and Penn State. However, after completing PrepScholar, you could have a 710+ GMAT score and be competitive at top MBA programs such as Berkeley Haas, Michigan Ross, or UVA Darden. 
Of course, you'll need to have taken the GMAT previously to be eligible for this offer. Additional eligibility conditions include fully completing the prep course among others. 
Does PrepScholar offer live GMAT classes or tutoring options?
PrepSchol does not offer live GMAT classes. However, they do provide completely customized tutoring that is catered to your learning style and study plan. Additionally, their tutors are all passionate, expert teachers who have scored at the 99th percentile on the GMAT exam. 
In our opinion, yes. Their review course is especially worth it for those looking for the biggest GMAT score increase guarantee available. 
Do they have a review app for mobile devices?
No. Unfortunately, PrepScholar does not currently offer a dedicated GMAT app. 
What is their teaching philosophy?
PrepScholar maintains that no two students are exactly alike (and we agree). While many test prep companies fail to appreciate this simple fact, PrepScholar actually tailors their curriculum to meet students' individual needs through adaptive algorithms and highly personalized study plans. 
Does PrepScholar offer a refund policy on their GMAT review course?
Yes. They offer a 5-day risk-free trial period after purchase. This is in addition to their score increase guarantee. 

Improve your GMAT Score, Guaranteed!
Exam Strategist is reader-supported. When you buy through links on our site, we may earn an affiliate commission at no cost to you. Learn more.