Target Test Prep GMAT Review
Target Test Prep made a name for themselves in the GMAT prep world for their committed, singular focus on providing the best and most complete Quantitative Reasoning only course. In recent months, the team has added access to a new version of their Verbal Reasoning prep course. And let me say this – it does not disappoint. But, is Target Test Prep the right review course for everyone? Read on to find out who this course is designed for and whether Target Test Prep is the best GMAT prep course for you.
Target Test Prep GMAT Review Outline
We'll be covering Target Test Prep's GMAT prep course in-depth, but feel free to jump to the most relevant sections for you:
Which Students Are Best Fit for the Target Test Prep GMAT Prep Course?
Target Test Prep is best fit for students who fall into one of the following two categories:
Those who are uncomfortable with their math skills and are looking for a structured Quant review course to build confidence and create a strong foundation in core concepts (and immensely increase their Quant score!)

Determined students aiming to achieve a GMAT score of 700 and higher (or about the 90th percentile and above) and want a structured study plan to follow along the way
Target Test Prep GMAT Prep Course Overview
Target Test Prep is known for their intense, exhaustive Quantitative Reasoning courses for the GRE and GMAT exams. Students must be prepared to spend around 150 hours to complete the Quantitative Reasoning course. Additionally, their new Verbal Reasoning course is equally comprehensive in covering the Sentence Correction and Critical Reasoning portions of the exam. Students begin the course with a thirty-one question practice test, which in conjunction with your stated goal GMAT score, is used to create a personalized study plan.
While it's fair to say there is somewhat of a brute force nature to their methods, the team at Target Test Prep excels not only in question quantity and thoroughness but also in quality of instruction. Their GMAT prep course utilizes a variety of instructional methods including text-based lessons, active review sheets, and top notch video solutions to practice questions.  The active review sheets are super handy PDFs with key concepts for you to fill out as you learn and can refer back to. Additionally, students must complete chapter tests following each topic and should pass with a specified accuracy score (customized to your study plan and goals) prior to moving on to the next module. This feature is great for students desiring a linear course structure in order to build a solid foundation, and be held accountable for ensuring basic concepts are mastered.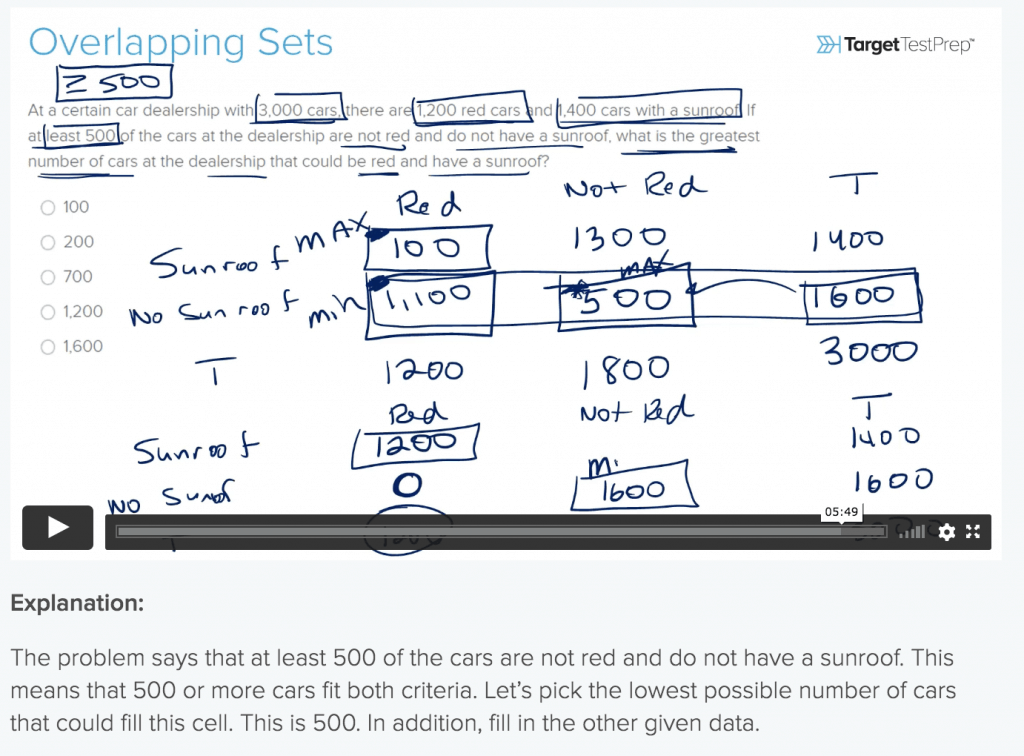 All in all, the course offers exceptional value with its thorough coverage of topics, clear video explanations, and sleek, modern platform. I personally found myself bewildered at times from some of the hard-level practice questions that seemed unlikely to appear on test day. However, they were actually quite good at exposing some of my blind spots with respect to fundamental quant knowledge and application. Without question, Target Test Prep will be able to identify your weaknesses and guide you through a systematic improvement process that will instill confidence in your GMAT skills.
Target Test Prep GMAT Course Pros
Best-In-Class for Practice Questions: To call this course comprehensive would be an immense understatement. With over 3,000+ quant practice questions, Target Test Prep ensures there will be no gaps in your knowledge come exam day. While at times they may drill you on fundamentals in a way that seems excessive, I was continuously surprised at their ability to find holes in my understanding concerning niche cases that could appear on the exam. Additionally, their more than 1,000+ verbal questions covering Critical Reasoning and Sentence Correction are equally probing, and will instill confidence in students' skills upon completion of the course.
High Quality Video Solutions to Practice Problems: One of my favorite things about the course is the quality of the instructor-led video solutions for the practice questions. While many other GMAT prep courses provide explanations for correct and incorrect answers, Target Test Prep instructors break the problems down into their essential concepts with step-by-step strategies presented in sleek, friendly HD video format to help students identify gaps in their knowledge. 
Online Expert Support and Options for Private Tutoring: I personally found their live chat helpline to be significantly more useful than those of some other prep providers who offer this service. Also, Target Test Prep maintains one of the better blogs in the space and is full of useful information complementary to the course. Additionally, they offer private tutoring for those who need further help on specialized topics.
GMAT Score Guarantee: If I had to guess, Target Test Prep probably has the fewest number of score guarantee refunds requested among all GMAT prep providers. I can attest from personal experience that it's hard to imagine not increasing your score after completing this intensive course. Nonetheless, if you have a bad exam day and are unable to increase your GMAT score after completing Target Test Prep's curriculum, you will be eligible for a full refund.
Full Access Trial: Target Test Prep offers a five-day full access trial to their complete prep course platform for $1. Although their trial period isn't free like some other prep providers, I did find it to be more useful as it allowed me to explore not just broadly, but also deeply within a certain topic. Free trials from many providers are typically quite limited and rarely allow you to go too deep within any one topic. For just $1, the price of Target Test Prep's five-day trial is more than worth it as you'll be able to develop a true sense of whether it's the right prep course for you. Additionally, if you prefer a no-cost way to check out Target Test Prep's instructional style, simply sign up for one of their frequent instructional video webinars. 
Exceptional Value with Complementary Verbal Course: Target Test Prep's GMAT course has always been a high-value choice considering their exhaustive instruction and low entry prices. That statement is all the more true today with the introduction of a complimentary, pre-launch Verbal Reasoning course (included in all of their current offerings).  
Target Test Prep GMAT Course Cons
Lack of Adaptive Prep Materials: The GMAT is a unique beast due to its question-level adaptive nature, meaning it will adjust the question difficulty as you proceed through the exam. Though it's not a big con by any means, Target Test Prep does not incorporate any kind of adaptability functionality to mimic the GMAT in that respect. This may even be an intentional choice by Target Test Prep due to their focus on students following a linear course structure to emphasize building upon a strong foundation in core concepts before advancing to more niche topics. Nonetheless, it would be nice for them to include some aspects of the exam day experience into their course as other providers do. 
No Practice Tests: Taking multiple adaptive GMAT practice tests is a must for students aiming to do their best on exam day. Unfortunately, Target Test Prep does not include any practice exams as part of their course package. Additionally, they don't offer any kind of discount on the official GMAT practice exam package despite including them as part of their course curriculum. This isn't necessarily that big of a deal as you'll likely need to purchase at least some of the official GMAT practice tests regardless of which prep provider you choose.
What Do Other Students Say About Target Test Prep GMAT?
Target Test Prep has the data to back up their claims of helping students score highly on the GMAT. Among students who have posted verified reviews and scores on the GMAT Club Forum, Target Test Prep users achieved an average GMAT score of 720 (or 94th percentile), and 84% of users reported scoring 700 or higher. 
Target Test Prep GMAT Prep Course Pricing
Target Test Prep not only offers great pricing options but also maintains one of the lowest entry prices among the top GMAT courses at $99 for one month of access. Of course, if you decide to try out the course, you'll quickly realize that even the most ambitious students would struggle to complete it in under a month. Due to the course length and intensity we recommend most students purchase one of the longer access period options. However, if your exam is coming up and you need intensive help in Quant, this course can help you make huge strides in improving your score in under a month. 
Specifically, they offer three distinct pricing plans for their flagship GMAT prep course:
Flexible Preparation: Pay by the month option – $99/month and cancel anytime 

Dedicated Study: Four months of access $449

Maximum Learning: Six months of access $499 (~$67/month)
All plans offer unlimited access to Target Test Prep's complete platform and includes the following:
5,000+ GMAT Practice Questions (3,000+ Quant and 1,000+ Verbal, with new questions added weekly)

1,200 + HD videos

Analytics and Live Expert Support

GMAT Quant and Verbal Courses

Guaranteed Increase in your GMAT Score 
Final Verdict: Is Target Test Prep the Best GMAT Prep Course for You?
Target Test Prep is one of our favorite courses for self-motivated students seeking a structured system to achieve a high score (or immensely improve their score) on the GMAT. They offer an intensive, in-depth GMAT quant course (and now Verbal) delivered in a clean, modern platform at a value price. So, if you are looking for a comprehensive, dedicated review course and want to meaningfully improve upon or achieve a high GMAT score, Target Test Prep may be the right GMAT prep course for you. 
Frequently Asked Questions: Target Test Prep GMAT Review
Is a Verbal Reasoning Course Offered?
Target Test Prep currently includes the pre-launch version of the Verbal Reasoning Course at no extra cost within all of their current prep course options. Note, the pre-launch GMAT Verbal course does not include Reading Comprehension at this time. 
Does Target Test Prep have an app?
Target Test Prep does not offer a mobile app at this time. However, the course platform is very mobile-friendly and designed for full use across most mobile devices. 
Is private tutoring offered?
Yes, Target Test Prep offers one-on-one tutoring using live, web video conferencing software. Their standard hourly rate for GMAT tutoring is $300/hour (fairly expensive). 
Is there a GMAT score increase guarantee?
While it is highly unlikely that you would need to request a refund having completed the course, Target Test Prep will refund any student who is unable to improve their GMAT score by 110 points. Certain eligibility requirements must be met and full policy terms are available on their website.
Does Target Test Prep Offer a Free Trial?
Although it is not free, Target Test Prep offers 5 days of full access to their GMAT prep course platform for $1. Note, there is no automatic billing upon completion of the trial.
Improve your GMAT Score, Guaranteed!
Exam Strategist is reader-supported. When you buy through links on our site, we may earn an affiliate commission at no cost to you. Learn more.